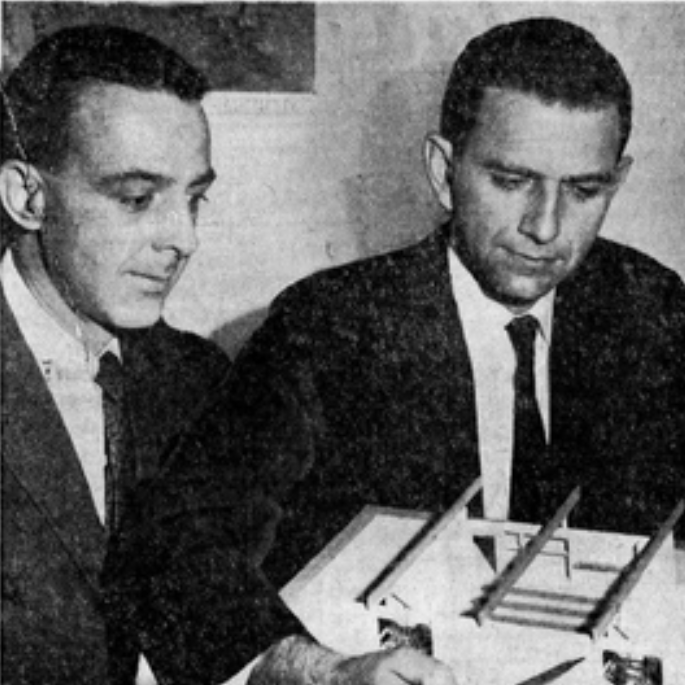 On January 9, University of Utah alum George (Jud) Daniels, FAIA and co-founder of Salt Lake City-based architectural design firm EDA, passed away at age 94.
Daniels helped introduce architectural modernism to Utah. "Jud's influence still resonates today," said EDA Managing Principal Thomas Brennan. "As heirs to the firm that he and Ralph Edwards founded, we're proud to carry his legacy of progressive, regionally relevant, community-focused, and environmentally responsive design forward."
Born on September 2, 1927, in Salt Lake City, Utah, Daniels was a proponent of meaningful, regionally relevant modern design, with significant local projects like The University of Utah Fine Arts and Architecture Complex, The Leonardo Museum (formerly Salt Lake City Public Library), Cottonwood High School, and Carbon High School. A 2009 article for the Utah Heritage Foundation by local architect Ken Pollard listed Daniels as part of "Salt Lake City's architectural tree of modernism," highlighting his and others' "unique perspective with an interesting and direct tie to the leaders of the modern movement."*
During his career, Daniels was a dedicated supporter and mentor to many young architects. "I considered Jud to be a mentor, partner, and friend," said retired EDA Principal Burke Cartwright. "I look back on our time working together and think of him being quietly supportive and kind. His body of work is enviable. It is thoughtful, restrained, and enduring; qualities, in my mind, that represent some of the best in architecture."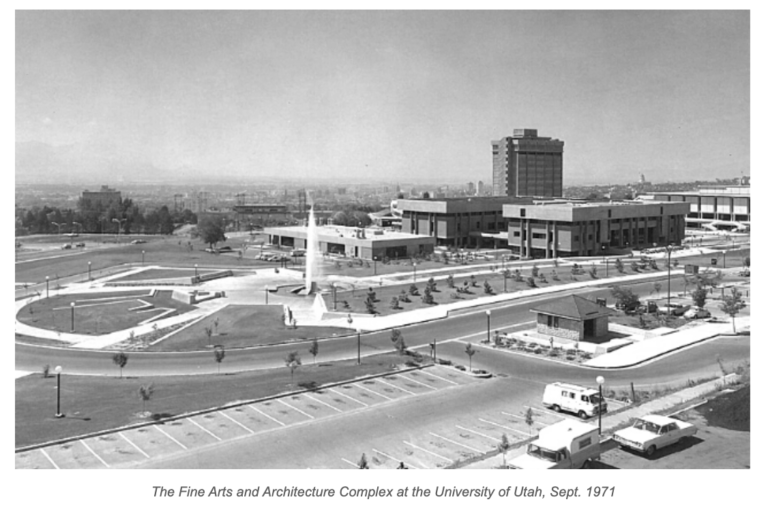 U Legacy
Designed by Daniels in 1971, the Fine Arts and Architecture Complex at the University of Utah became one of the finest visual arts centers in the country. The building 140,000 square feet, included studio workshops, exhibition galleries, and a museum. The structure was designed in the Brutalist style yet done with an elegant counterpoint of glass and warm materials of brick and wood to contrast with the dominant concrete. In 2006, the building received the AIA Utah Chapter's 25-Year Award. "As the University has grown around it, the clarity of this building's design has allowed it to adapt and be rethought by subsequent generations," said Keith Diaz Moore, Dean of the College of Architecture & Planning. "It remains to this day reflective of the thoughtful and restrained architecture characteristic of Jud Daniels' career."
More than 50 years on, the Fine Arts and Architecture Complex continues as the elegant home for both the College of Fine Arts and the University of Utah College of Architecture + Planning.
*Pollard, Ken. "Understanding the Roots of Salt Lake City's Modern Architecture." Heritage Newsletter, Utah Heritage Foundation. 2009. Page 5